DEPARTMENT OF GENERAL MEDICINE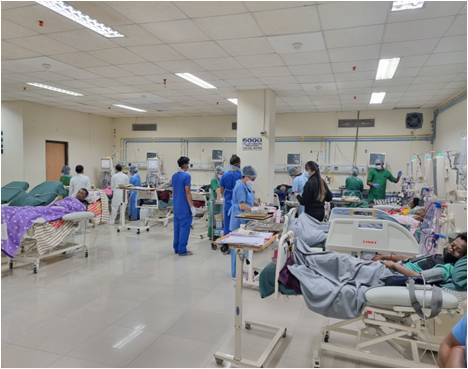 Sr. Prof. (Dr.) P.K Bhattacharya
Professor (HAG)  
Dr. K.G Lynrah
Professor

CV ANNEXURE-I Scientific Publications & Presentations

Dr. M. Lyngdoh
Additional Professor
Dr. Iadarilang Tiewsoh
Associate Professor
Dr. Garyll Ryan Tariang Blah (Adhoc)
Assistant Professor
Dr. Yasmeen Hynniewta (Adhoc)
Assistant Professor
Dr. Gwenette Andrea War (Adhoc)
Assistant Professor
Senior Resident Doctors:

Dr. Susmita Deb
Dr. Annu Gupta
Dr. Batjuban G. Myrthong

Department of General Medicine was started in the year 2006. The first batch of MBBS with strength of 50 students was started in the year 2008. Post Graduate (MD General Medicine) Course has been started from the year 2014 with 2 seats.

The Department has 68 general and 8 isolation beds. The Department has started the Medicine ICU (MICU) in 2015 in the second floor of the hospital with 6 beds which was upgraded to 15 beds functioning in November 2021. The Department also has the following facilities for the diagnosis and treatment of different diseases:

UGI Endoscopy
LGI Endoscopy
Bronschoscopy
Hemodialysis
Ultrasonography
Echocardiography
Lung Function Test

Facilities for other routine procedures like Peritoneal and Pleural Aspiration, Bone Marrow Aspiration and Biopsy, Lumbar Puncture, etc.

The Department of General Medicine runs OPD six days a week from Monday to Friday (from 8.00 AM to 2.00 PM) and Saturday (from 8.00 AM to 11.00 AM) with round the clock emergency services on all days of the week including Sundays and Holidays.

Teaching programmes for undergraduate MBBS students of the Institute and of the B.Sc. Nursing students of the College of Nursing.
The Department conducts regular in-house ward rounds, seminars, journal clubs, clinical case discussions and periodic mortality reviews for the post graduate students, residents and faculty. Moreover, there are also periodic interdepartmental case discussions and seminars.

Journal Club: Every week on Tuesday at 9 AM by a Postgraduate student for one hour. The session is chaired by one of the Faculty members of the Department.
Case presentation: Every week on Monday at 9 AM by a postgraduate student.

Seminar: Every week on Thursday at 9 AM by a Post Graduate student. The above mentioned teaching programmes are also actively participated by other Departments.

Department has plans to start special OPDs including Geriatric Clinic, Diabetes Clinic, Rheumatology OPD as soon as possible. The Geriatric Clinic and Unit is planned to start soon.
To take patient services to an excellent level.